Back to all posts
Posted on
Parent Teacher Interviews, March 17 & 18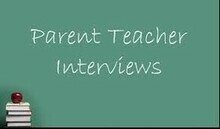 It's that time of year again! We will be holding our second set of Parent-Teacher Conferences this month, on March 17th and 18th from 4:30pm to 7:30pm each night. 
Normally, the Spring conferences are our Student-Led Conferences, but unfortunately, our COVID-19 protocols will not allow us to facilitate this type of conference. Instead, we will be holding another set of traditional conferences like we had in the late fall. The one difference will be that we have provided an option to have your conference through a Video Conference or a Phone Call.
Please click HERE to book your conference. When you use the booking system, please take note of the changes to the information that we are requesting from you. You will be asked to pick your preferred conference format and to provide a phone number and email address for us to reach you. Thank you!