Back to all posts
Posted on
2023-2024 Orange Shirts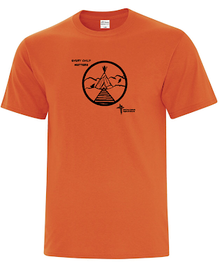 Orange Shirt Day is a legacy of the St. Joseph Mission (SJM) residential school commemoration event held in Williams Lake, BC, Canada in 2013. It grew out of Phyllis' story of having her shiny new orange shirt taken away on her first day of school at the Mission. It has become an opportunity to keep the discussion on all aspects of residential school happening annually. 
Our school division will recognize Orange Shirt Day on Friday, September 29th, 2023.
Each shirt is $14.00 for youth & adults. $1.00 from every shirt purchased will go towards an Indigenous Education Services Student Scholarship. 
Payment can be made online via Visa, Visa Debit, MasterCard or Debit MasterCard or with EXACT cash at the school office. Please note, we are unable to accept cheques for payment. Orders are open until September 17th until 11:59 pm.
To order your shirts, please follow these instructions:
1) Log in to your PowerSchool Parent Portal on a web browser (NOT the app) via this LINK. (If you do not remember your username or password please contact the office).
2) Click on School Fees and Forms (second from bottom, on left). Follow the instructions provided on the screen. 
If you have any questions, or need access to a Chromebook to complete the online payment, please feel free to come into the office.